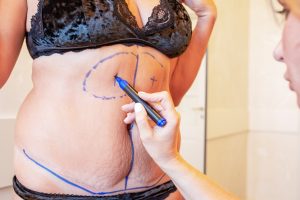 Cosmetic surgery on genitalia has become more common in recent years, including surgical removal of fat on the mons pubis. The mons pubis, or your pubic area, is the area of fatty tissue above your pubic bone. Fat in this area can make women self-conscious, especially when wearing tight-fitting clothing such as leggings, swimsuits, and dresses. Fortunately, this can be corrected with cosmetic surgery in Durham, NC.
The tendency to develop fat in this area can be congenital, and even if you are of a healthy weight, you may experience a prominent mons pubis. If you have had surgery such as abdominoplasty, you may notice pubic fat even more, as abdomen surgery can reveal fat in that area that was already there but ignored up to this point.
Cosmetic Surgery for the Mons Pubis
Liposuction is a straightforward procedure that can help achieve dramatic results in this area. However, if your skin is loose, liposuction can end up making the skin appear even looser than before. This is where a monsplasty, or pubic lift, is the best option. This procedure removes excess skin and fat, which reduces the bulge of the pubic area.
Though this procedure is more common for women, men can also receive the same surgeries and experience similar results.
If you are interested in learning more about the removal of excess fat in your pubic area, contact Cary Plastic Surgery to consult with our board-certified surgeon.